HENNESSY HAMMOCK - ultralight explorer hammocks
For our adventure tours on the sunny island Sicily and throughout Europe Hennessy Hammock has sponsored five ultralight explorer hammocks with mosquitonets, tarps and snakeskins. The ultimative hammock test is following...
Update September 2013
So, we tested the hammocks on different places:
On our adventure-mountain, on the rocks and on the beach.
First of all, the "air bed" is awesome! Extremely lightweight, realy easy to set up - fast and everywhere - and very convenient. Actually, the explorer ultralight hammock is for one person only, but also a (also lightweight) couple spent a cozy night in it. Our longest pioneer is nearly two meters long, instead of his tent he prefers the hennessy. The hammocks are safe from mosquitoes and bad weather mostly the tarp protected us from the hot sun on the island but it resisted some strong rainstorms and hail too. The snakeskin makes it realy easy to set up and we enjoy also the way to travel with it.
Here you can see the two meter long Ben,
wearing one of our Hennessy Hammocks in Snakeskin
and other extreme light stuff.
...And here we are on the lonely beach, five miles under our Adventure Hill - to relax: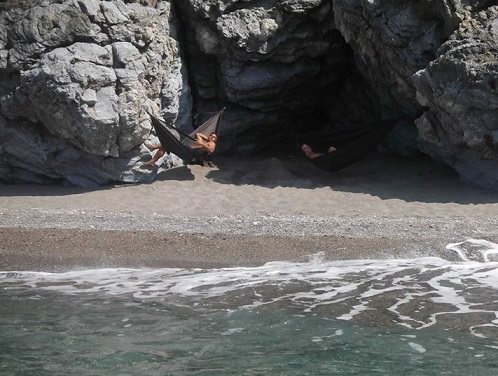 In the morning, between two rocks ... then after a round in the sea under pine trees.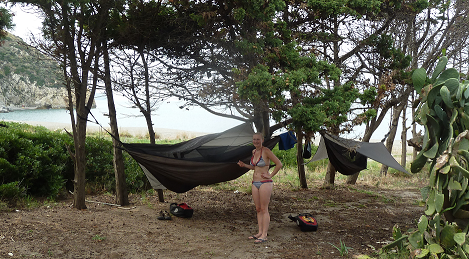 Further reports of our Adventure Tours will follow, now an external introduction video.
Update August 2014
The hammocks survived several adventures, Including a tornado which destroyed instead a tent with essential equipment in there! Only a tarp from one of the five hammocks went into shreds, one hammock was getting a small hole, a few rubber bands were to be replaced, but all adventurers and pioneers who came to the Island on our adventure mountain and with us on tour, were impressed by the super comfortable and practical hammocks.


Too bad that our great donkey Hercules does not fit in one of the hammocks, so we are a bit sorry for him when it rains during our tours.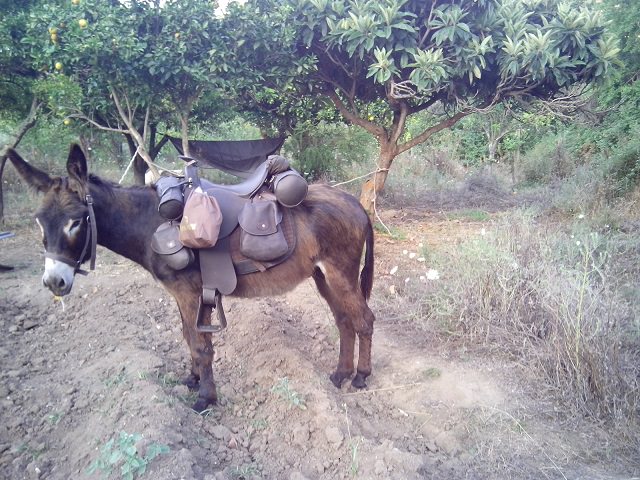 Below you can see our laundry was washed, but in the hammock we remain always dry.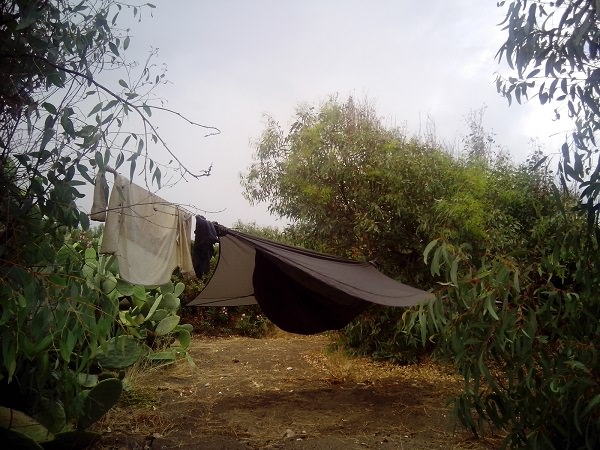 On the inner rope there is also space for your clothes, the hammock itself is so broad that even two persons can sleep in - or one person with his luggage if it is necessary. And you can see that it remained dry as well.
Update April 2016
Ingenious quality work! Even after many years, weather changes, long adventure tours and a lot of sun the Hennessy Hammocks are still perfect in functionality!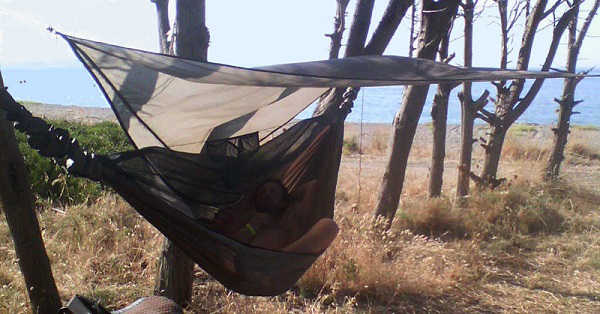 ...Hennessy Hammock - no trail - no campsite - no problem...



_____________________________________
Go to our sponsors, the best outdoor outfitters.
Go to our offers, and the eco-adventure-team.
...or shut down the pc and go outdoors! :-)